Find your winery or vineyard
1 Wineries and Vineyards for sale in DOC Beira Interior
Infographic of the Denomination of Origin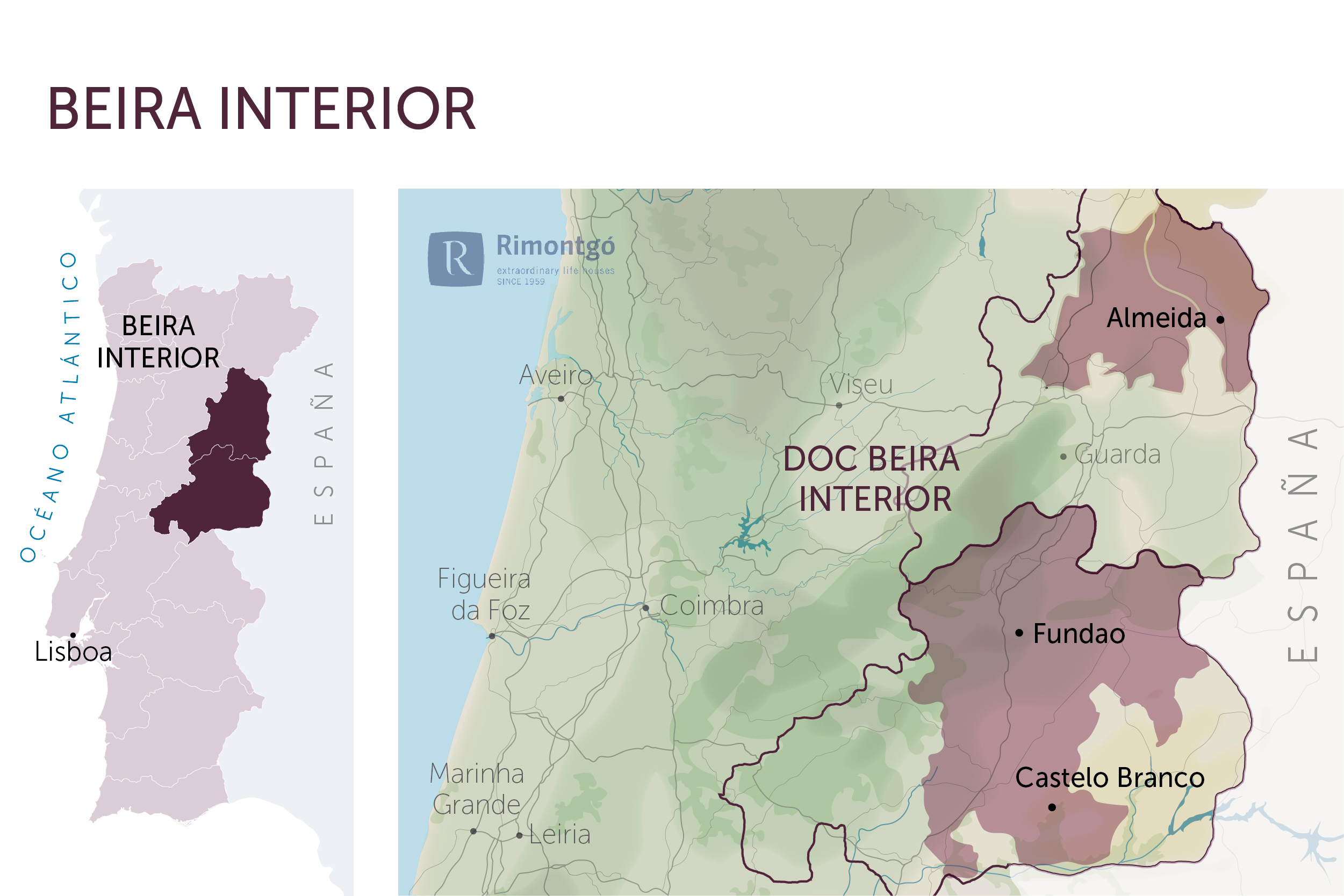 Change to imperial units (ft2, ac, °F)Change to international units (m2, h, °C)
D.O. year of foundation:

1999

Number of wineries (2017):

21.000

Total surface area:

16.000 ha39.536 ac

Maximum production allowed:

33.000 kg/ha29.441 lb/ac

Altitude of the vineyards:

Min: 400m

Max: 750m

Min: 1.312ft

Max: 2.461ft

Temperature:

Min: 8º

Max: 18º

Min: 46°F

Max: 64°F

Yearly rainfall:

1.600 l/m217.222 l/ft2
DOC BEIRA INTERIOR
LOCATION AND HISTORY
The Beira Interior DOC is the result of a merger between the three areas of Castelo Rodrigo, Pinhel and Cova de Beira, which are considered the sub-regions of the DOC. The regional wine is called Terras da Beira.
In Beiras, it can be considered two wine-producing regions with well-defined characteristics and a long tradition of quality wine, one in the north in the province of Beira Alta and the other further south in the province of Beira Baixa.
The area located in the province of Beira Alta includes the municipalities of Pinhel, Figueira, Castelo Rodrigo and parts of the municipalities of Trancoso, Guarda, Almeida and Celorico de Beira. It includes the wide valley of the river Coa, a tributary of the Douro, is the continuation of the Spanish plateau and has fortified towns along its length that testify to the battles that have taken place over the centuries.
In the Beira Baixa region, the main wine-growing areas are in the councils of Belmonte, Cova de Beira, Fundao and Castelo Branco. From the foothills of Serra da Estrela to the banks of the Tagus (Tagus) river south of Castelo Branco. The wide U-shaped Zêzere valley south of Guarda is the most promising area.
SOILS AND CLIMATE
The vineyards are located especially on soils with granitic and sandy rocks, and some areas of slate terrain, the climate of the region being Mediterranean and Atlantic.
The vines are planted on soils derived from granite in the area of Covilha and from Precambrian slate in the areas of Belmonte, Castelo Branco and Fundao.
GRAPE VARIETIES
The regional varieties are Marufo, Rufete, Bastardo and Mourisco in reds and in whites are the varieties Síria for sparkling wine, Codo, Fontecal, Arinto, Malvasía and Alva.
In the Beira Alta region, the white wines produced in the municipalities of Armamar, Tarouca and Moimenta are particularly noteworthy, with the varieties Arinto, Cercial, Malvasía, Rabo de Ovelha, Alva and Folgazao.
The traditional grape varieties of Beira Baixa are Castelao, Moreto, Mortágua, Rufete and Trincadeira for the reds and Arinto, Cerceal, Folgazao, Alva and Tamarez for the whites.
WINERIES
The main wineries are Almeida Garrett and Rui Roboredo Madeira.
Discover more wineries and vineyards for sale in these wine regions in Portugal
Tap on the map to activate Zoom