Find your winery or vineyard
4 Wineries and Vineyards for sale in DO Valle de Uco
Infographic of the Denomination of Origin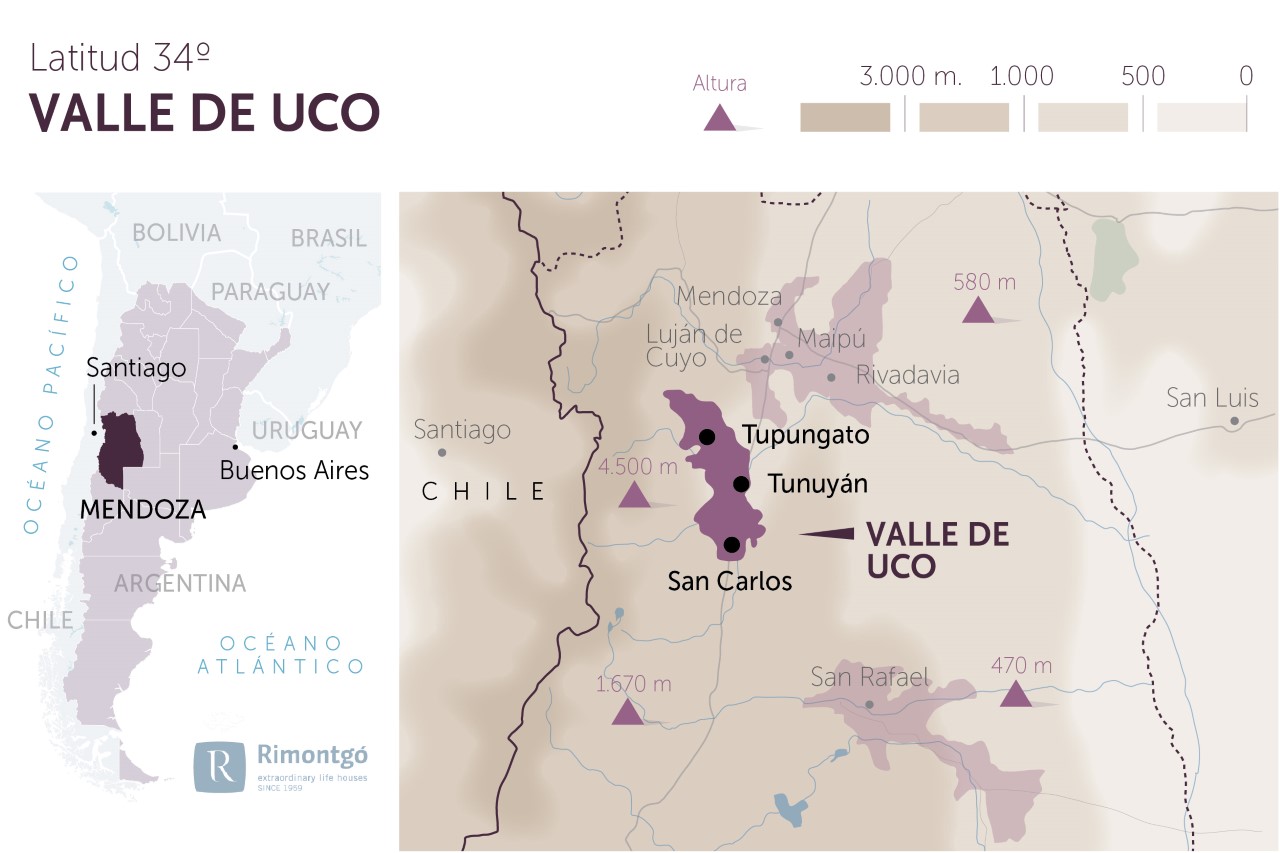 Change to imperial units (ft2, ac, °F)Change to international units (m2, h, °C)
Number of wineries (2017):

324

Total surface area:

28.216 ha69.722 ac

Altitude of the vineyards:

Min: 1.000m

Max: 2.100m

Min: 3.281ft

Max: 6.890ft

Temperature:

Average: 17º63°F

Yearly rainfall:

350 l/m23.767 l/ft2
Designation of Origin Valle de Uco
LOCATION AND HISTORY
The Uco Valley covers cultivated territories in the provinces of Tunuyán Tupungato and San Carlos, on the foothills of the Andes between 33- and 34-degrees south latitude. The Designation of Origin Valle de Uco is marked by the imposing presence of the Andes, whose perpetual snows make possible the supply of water from glaciers and snowmelt. This wine region of Mendoza's province received at the beginning of the 20th century a great amount of emigration coming mainly from Italy and Spain, people with knowledge and tradition regarding the cultivation of vineyards. At first, the grapes obtained were sold to the current neighbouring appellations of origin such as Maipú and Luján de Cuyo. Besides the water coming from the Andean thaw, this denomination of origin is irrigated by the flow of the Tunuyán and Tupungato rivers. In the last two decades, different wineries have bet on settling in Valle de Uco due to the capacity of its soil and climate to generate high quality wines. Among the wineries located in Valle de Uco, are found companies such as Altus, Antucurá, Finca El Origen, François Lurton, Hinojosa, Monteviejo, Tikal, San Polo, Salentein, Finca La Celia, Estancia Ancón, Lucila Bombal or Clos de los Siete.
SOILS
The soils in the designation of origin Valle de Uco in its elevated areas with marked slopes are very stony and the pebbles appear mixed with coarse sand and silt, of low fertility. They are also permeable without problems of salinity or drainage.
CLIMATE
The climate in the designation of origin Valle de Uco is characterised by thermal oscillations between day and night during the summer months, which are warm and sunny compared to the winter months, which are cold and have continuous winds that extend into spring. The Andes acts as a barrier to the currents coming from the ocean. In the Uco Valley the possibilities of suffering hail are less than in other denominations such as Mendoza Este due to its particular geography. In the whole wine region, there is a good predisposition to the solar exhibition that helps to the correct maturation of the grape.
WINERIES AND TYPE OF GRAPE
As it happens with the rest of the wine regions in the province of Mendoza, the top grape is the Malbec variety together with other varieties such as Cabernet Sauvignon, Pinot Noir, Chardonnay o Sauvignon Blanc.
The main wineries located in the Uco Valley are: Altus, Andeluna cellars, Antucurá, Clos de los Siete, Cuvelier los Andes, De Marchi, Domaine Jean Bousquet, Estancia Ancón, Lucila Bombal, Finca el Origen, Finca la Celia, Finca Sophenia, Flechas de los Andes, François Lurton, Hinojosa, Monteviejo, O. Fournier, Diamandes, Salentein, San Polo, Masi Tupungato (Bodega del Veneto de Amarone), Rutini Tupungato and Tikal.
Discover more wineries and vineyards for sale in these wine regions in Argentina
Tap on the map to activate Zoom