Find your winery or vineyard
4 Wineries and Vineyards for sale in DO Utiel-Requena
Infographic of the Denomination of Origin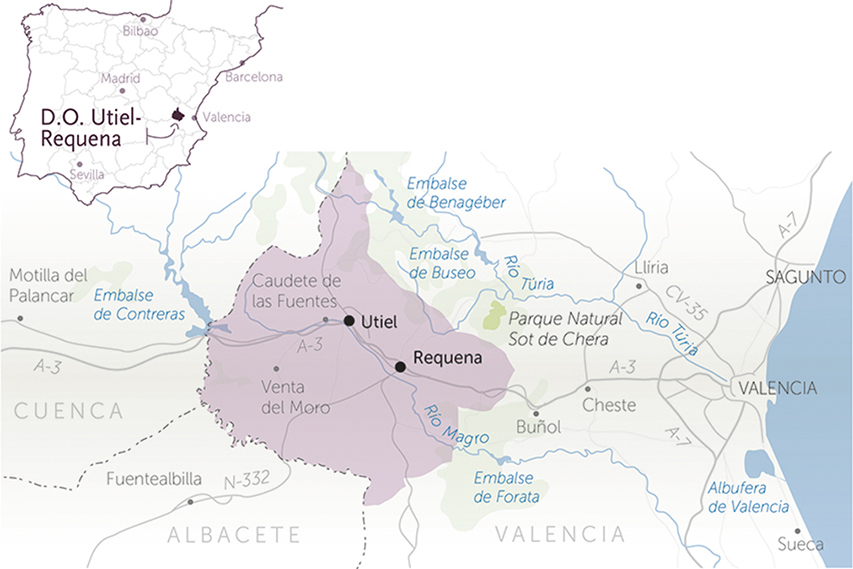 Change to imperial units (ft2, ac, °F)Change to international units (m2, h, °C)
D.O. year of foundation:

1932

Number of wineries (2017):

95

Total surface area:

34.000 ha84.014 ac

Maximum production allowed:

9.100 kg/ha8.118 lb/ac

Altitude of the vineyards:

Min: 700m

Max: 900m

Min: 2.297ft

Max: 2.953ft

Temperature:

Min: -6º

Max: 41º

Min: 21°F

Max: 106°F

Yearly hours of sun:

2.700

Yearly rainfall:

400 l/m24.306 l/ft2
DO Utiel-Requena
LOCATION AND HISTORY
Inland of the province of Valencia there are a good number of municipalities whose economic driving force is the production of wine. This is the case with Camporrobles, Caudete de las Fuentes, Siete Aguas, Venta del Moro, Villargordo del Cabriel and, in particular, Utiel-Requena. In these two latter localities, archeological deposits have been found, which date back to the 6th and 7th centuries BC, therefore, it is assumed that it was the Romans who contributed to cultivating the vineyards and to commercialising the Valencian wines which we have today.
SOILS
Specifically, in the area there are more than 40,900 hectares intended for the cultivation of wine. We find ourselves in a plateau of 45 kilometres in diametre, between the river Turia and the river Cabriel, with an average altitude of 700 metres above sea level, slightly inclined from the northeast towards the southeast. In the North, the Magro river provides alluvial soils, and in the South, a base of sandstone with marl and clay leads to occasional outcropping of limestone, which some vineyards make good use of. This is the growing region in Spanish with the most intensely planted and the smoothest vineyards: the density of the vine varies from a minimum of 1,600 to a maximum of 2,500 vines per hectare, and 5% of the area is now organically grown.
CLIMATE
The continental climate of Utiel-Requena is one of the toughest, with frost and hail during the cold winters, but extreme heat during the summer, as well as frequent rain in autumn and spring. The area is also strongly influenced by the Mediterranean due to its proximity to the sea (67km, as the bird flies). The wide thermal range that shifts by 17 degrees, encourages the development of distinct varieties and produces contrasts in the grape, with crops that really stand out. The ones added from 1993, 2001, 2005-6, and 2011-12 were excellent.
TYPE OF GRAPE
One of the best peculiarities of the DO Utiel-Requena is its grape: Bobal, a variety native to the Community, which occupies more than 80% of plantations in the area. Also being profoundly replanted is the Tempranillo grape, which is 12% of the cultivation, and the Garnacha Tinta, Garnacha Tintorera, Cabernet Sauvignon or Petit Verdot, amongst others. The white grape only represents 5.37% of the vineyard in the area, but Tardana (also called Planta Nova) is native to the area. Other varieties are Macabeo, Merseguera, Chardonnay and Parellada.
Discover more wineries and vineyards for sale in these wine regions in Spain
Tap on the map to activate Zoom