Find your winery or vineyard
7 Wineries and Vineyards for sale in DO Málaga and DO Sierras de Málaga
Infographic of the Denomination of Origin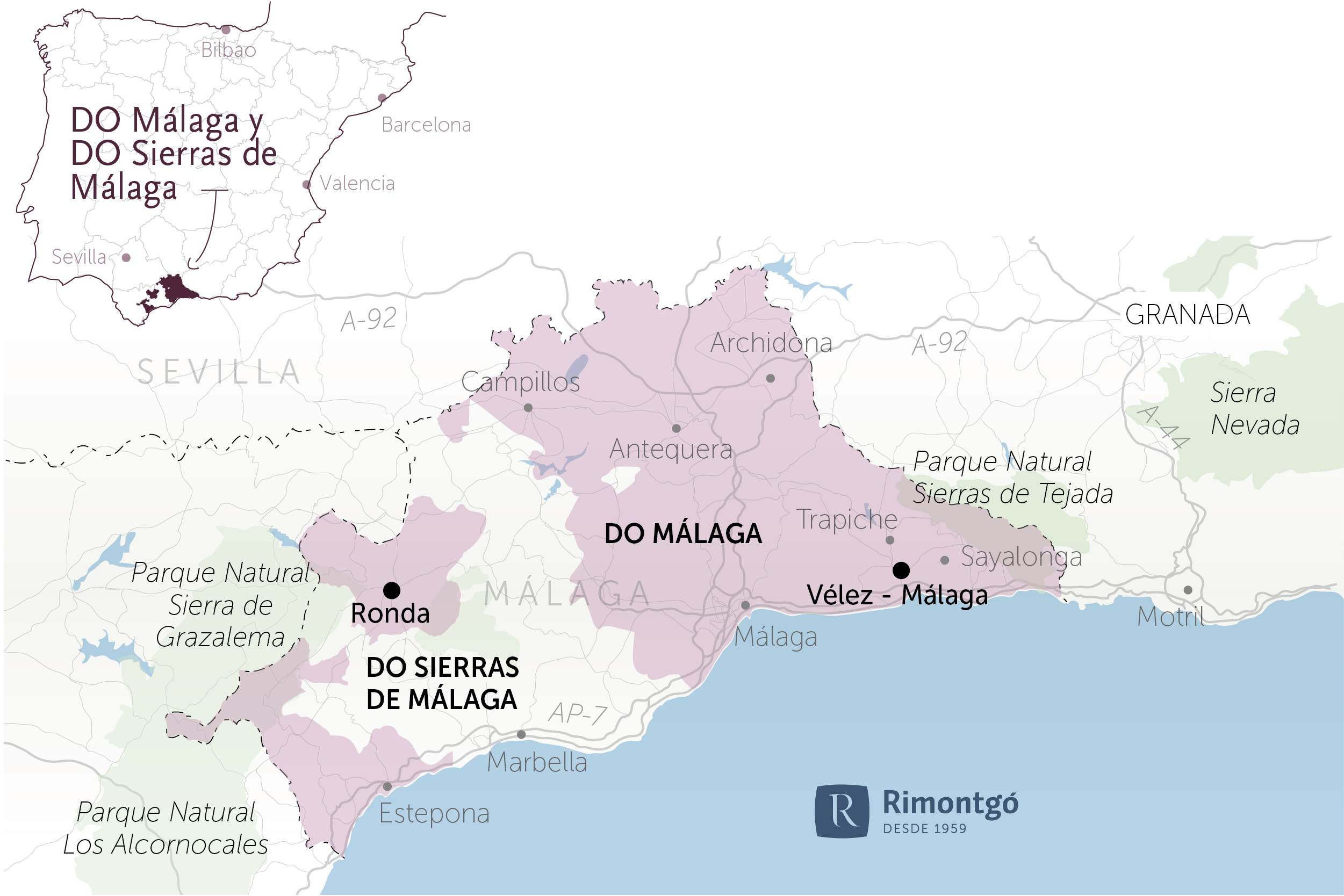 Change to imperial units (ft2, ac, °F)Change to international units (m2, h, °C)
D.O. year of foundation:

1937

Number of wineries (2017):

44

Total surface area:

998 ha2.466 ac

Maximum production allowed:

11.500 kg/ha10.260 lb/ac

Altitude of the vineyards:

Min: 300m

Max: 900m

Min: 984ft

Max: 2.953ft

Temperature:

Min: 5º

Max: 35º

Min: 41°F

Max: 95°F

Yearly hours of sun:

3.000

Yearly rainfall:

500 l/m25.382 l/ft2
DO Málaga and DO Sierras de Málaga
LOCATION AND HISTORY
The history of Málaga wines goes back to 600BC, the time Mainake was founded, when the settled Greeks in Málaga taught the natives how to prune the vines. The first historic testimony that we know about wine production in Málaga, dates back to the Roman Empire and consists of a prismatic fermentation tank discovered in Cártama, near Málaga.
In 1933, the Designation of Origin Málaga was created. This designation protects liqueur wines and both sweet and ripe grapes from the Muscat or Pedro Ximénez varieties.
The Designation of Origin Sierras de Málaga was created in 2001, it distinguishes the subarea traditionally referred to as Serranía de Ronda. This designation protects red, white and rosé wines.
SOILS
The designations of Málaga province are made up of five areas of production. Serranía de Ronda has the highest ground in the province and the soil has a sandy texture with lime-clay and limestone subsoil. Manilva, on the Cadiz border has whitish soils on the rolling hills near the Mediterranean Sea. North Zone plateau, on the Cordoba border, has red iron clay soils with limestone components. Axarquía, bordering Granada, has a complex orography. Surrounded by large sloped mountains in the north, it has shallow soils of decomposing slate. Montes de Málaga, the mountain range which surrounds the city of Malaga, has highly eroded, shallow soils formed by Cambrian slates.
CLIMATE
The climate of Málaga fluctuates between a humid Mediterranean on the coast, to a more continental style inland. The Axarquía benefits from a mild climate throughout the whole year and the lowest rainfall in the Designation of Origin. As for the North zone, it has very hot and dry summers and quite cold winters with high rainfall.
TYPE OF GRAPE
There are two dominating white grape varieties in DO Málaga: Muscat and Pedro Ximénez. In DO Sierras de Málaga, there are as many white varieties as there are red. The white varieties include Muscat, Pedro Ximénez, Doradilla, Chardonnay, Macabeo and Sauvignon Blanc. The red varieties are, among others, Cabernet Sauvignon, Merlot, Syrah, Romé, Tempranillo, Petit Verdot and Pinot Noir.
Discover more wineries and vineyards for sale in these wine regions in Spain
Tap on the map to activate Zoom