Find your winery or vineyard
Infographic of the Denomination of Origin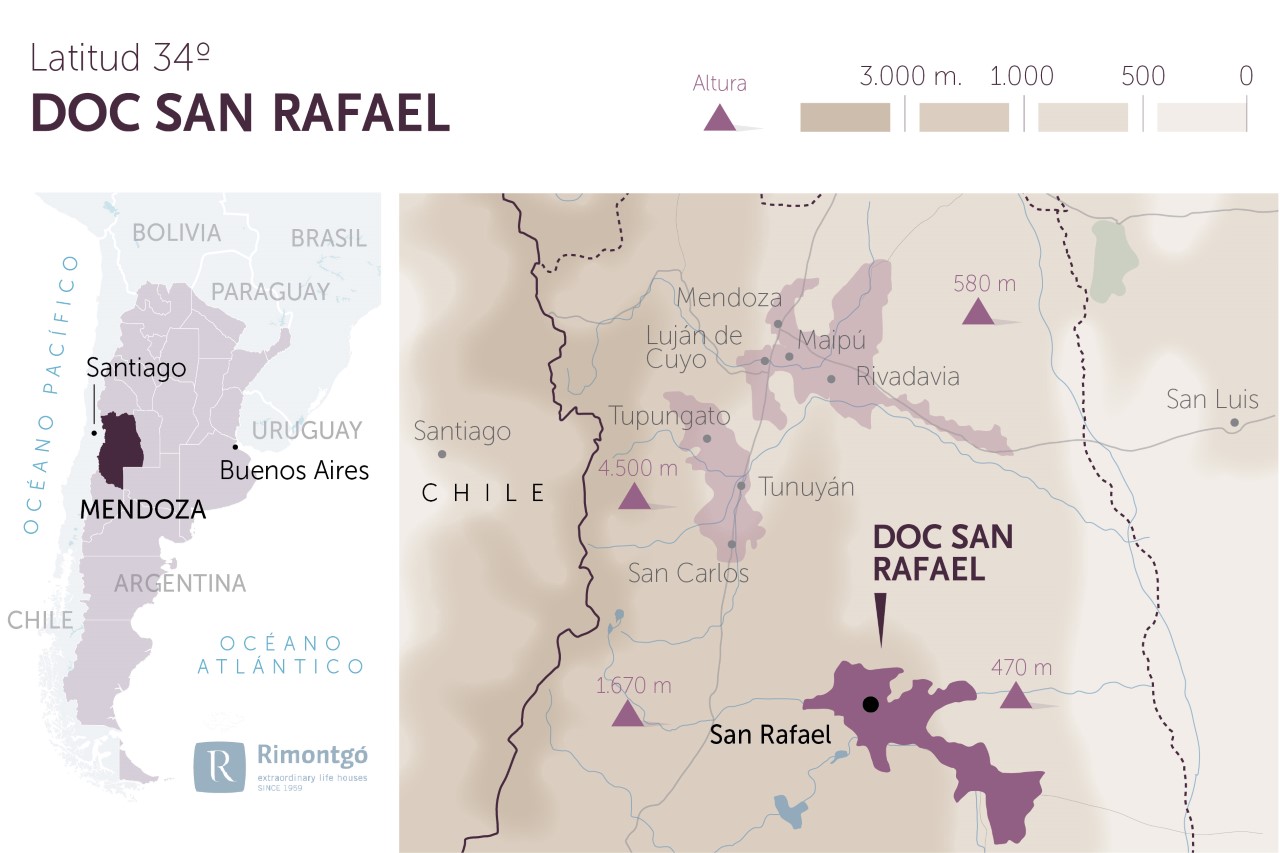 Change to imperial units (ft2, ac, °F)Change to international units (m2, h, °C)
Number of wineries (2017):

50

Total surface area:

14.383 ha35.540 ac

Altitude of the vineyards:

Min: 450m

Max: 800m

Min: 1.476ft

Max: 2.625ft

Temperature:

Min: 2º

Max: 31º

Min: 36°F

Max: 88°F

Yearly rainfall:

220 l/m22.368 l/ft2
Controlled Designation of Origin San Rafael
LOCATION AND HISTORY
The southern oasis, located at 34º south latitude, includes the vineyards of the provinces of San Rafael and General Alvear and is irrigated by the Atual and Diamante rivers. Controlled Designation of Origin San Rafael was created in 2007 (DOC Luján de Cuyo was two years before), a geographical identification that guarantees that the wines produced comply with the standard quality parameters of this DOC and dictated by the regulatory body. In the case of San Rafael, this regulation comes from the differentiation of its wines thanks to the existence of a particular microclimate in this wine region. The hydration of the land dedicated to the vine is assured thanks to the water, coming from the thaw. The hills of Sierra Pintada act as a barrier against the winds coming from the south, which gives rise to the particular climate mentioned above.
SOILS
In the vast majority of the land integrated into the DOC San Rafael, the soils are alluvial in nature with an abundance of limestone material and a stony subsoil. As for the conduction system, low trellises predominate.
CLIMATE
The vineyards included in the DOC San Rafael are located 700 metres above the sea level. The mild climate presents remarkable differences in temperature between day and night, although there is no excessive risk of frost during the colder months. The winds from the southern latitudes are slowed down by the presence of the Sierra Pintada. This generates a particular and concrete climate that brings different and interesting nuances to the wines producing in this Argentine wine region.
WINERIES AND TYPE OF GRAPE
In the DOC San Rafael are cultivated, among the red varieties, Malbec, Merlot or Cabernet Sauvignon. Other developed varieties in the area are Sémillon and Chardonnay.
The main wineries of the DOC San Rafael are Algodón Wine Estates, Casa Bianchi, El Rosal, Goyenechea, Jean Rivier Lavaque, Mumm and Roca Wines.
Discover more wineries and vineyards for sale in these wine regions in Argentina
Tap on the map to activate Zoom